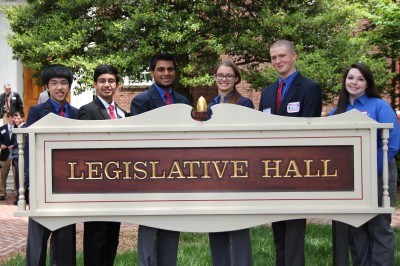 Delaware TSA recently held its' annual state conference which turned out to be a huge success. We would like to thank everyone who came out and showed their support for DETSA including judges, advisors, parents, and all of the volunteers that helped run the conference itself.
During the conference many members participated in our jail-and-bail event, where anyone could have "bounty hunters" arrest a person of their choosing. I am happy to announce; that thanks to everyone who participated in the jail-and-bail event, we raised $448.08 for the American Cancer Society.
On the first day of the conference, a new state officer team was elected by voting delegates sent from each school. The new officers were installed on the second day. The new state officer team is as follows:
President – Rebecca Williams, from Mount Pleasant High School
Vice President – Snehil Kumar, from Caesar Rodney High School
Secretary – Mary Beth Robbins, from Lake Forest High School
Treasurer – Ashish Bachavala, from Caesar Rodney High School
Reporter – Michael Canning, from Caesar Rodney High School
Sergeant-at-Arms – Johnny Bui, from Caesar Rodney High School
The State Officer team participated in Legislative appreciation day on May 15th. The officers presented flowers to the state senators,  and representatives. Before the flower presentation Rebecca Williams presented a speech to congress thanking them for their continued support of all Delaware CTSOs.
Summer is fast approaching, and with summer comes the national conference! This year the national conference will be held at the Gaylord National Resort & Convention center in Washington, DC from June 27th to July 1st. Make sure you are prepared for all of the events that you will be entering into, and be sure to have your registration completed.
As a final note, I would like to ask that if anyone has any cool, funny, or interesting photos from the state conference, please send them to [email protected].