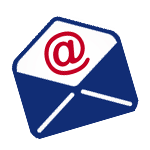 Did you know that we have a mailing list?
An email goes out about once a month regarding what's new with Delaware TSA. Signing up is easy – just click on the mailing list icon on the right sidebar of any page. On the sign up page, enter some information and you'll get a confirmation email. Once confirmed, you can expect monthly updates from Delaware TSA.
Our mailing list isn't limited to just members or advisors though, parents, alumni and visitors are also welcome to join!
To see the last email that we sent out, check it out: http://eepurl.com/i5uOf.