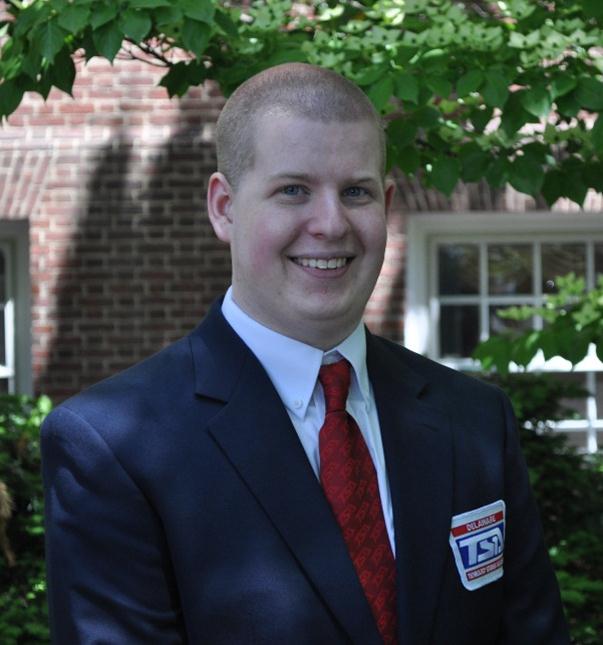 Congratulations to Steven Vanderloo, winner of the 2012 Dr. Bob Hanson Distinguished Student Award!  This award is given to the TSA member who has achieved prominence and distinction, and been actively responsible for the continued growth and success of TSA.  Steven has been an active and enthusiastic member of TSA throughout his middle and high school years.  He has also been involved with Delaware's State TSA program, holding the offices of treasurer, vice-president, president, and reporter.  Steven was recognized at this year's national TSA conference in Nashville, and he was "excited and honored to win the award."
Steven joined TSA while in 7th grade at Hanby Middle School.  At the prompting of his technology teacher, he attended an interest meeting for TSA.  Steven commented that "after seeing all of the great events and leadership opportunities at the state and national Conference that year, I decided that TSA was something that I really wanted to do."  And his interest and participation continued to grow throughout middle and high school.  He took an active role in the leadership of his chapter, helped planned conference events, and launched a brand new Delaware TSA website.  Steven says that working on the website "allowed me to not only gain technical skills . . . but also learn about marketing, leadership and communications first hand."
Steven also enjoyed competing in the competitive events offered by TSA on both the state and national levels, including Desktop Publishing, Chapter Team, Technology Problem Solving, and Manufacturing Prototype.
Steven's involvement with Delaware TSA impressed state advisor, Mike Fitzgerald, who nominated Steven for the award.  Mike met Steven in the fall of 2010 and described Steven as "well organized, very knowledgeable, [with] a level of dedication that was evident."  Steven was President of Delaware TSA when they met, and what caught Mike's attention was Steven's ability to earn "the natural trust, respect, and initiative of his colleagues."
At Concord High School, Steven was involved with other extracurricular activities including National Honor Society, Leader Corps, and Boy Scouts.  He was also a member of the Delaware STEM Council as the student liaison for New Castle County.
Outside of TSA, Steven worked at a gift shop, and did freelance computer work for several organizations, friends, and family.  He also volunteered for many other organizations including Relay for Life, Making Strides Against Breast Cancer, Coastal Cleanup, Letters to Soldiers, Toys for Tots, Hagley Museum's Invention Convention, SPCA, park cleanups, and soup kitchens.
Steven will be attending Virginia Tech this fall, and plans on majoring in either Computer Engineering or Computer Science.  He will participate in the Residential Leadership Community. Steven describes this as a "themed housing leadership program where I study leadership and take an active part of becoming a leader on Virginia Tech's campus."
Steven says that his involvement with TSA through his middle and high school years has been a rewarding experience.  In his own words, Steven says that because of TSA, he is "one step closer to becoming successful in a technical world."
Originally posted on National TSA's website: http://www.tsaweb.org/2012_Distinguished_Student