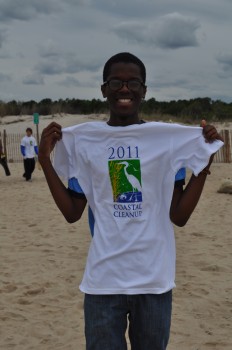 October 23rd at 10 AM is the annual "Making Strides" cancer walk in Wilmington's Rodney Square. We encourage all chapter members to participate with the state officer team on this day to help a good cause. If you know about someone in your family who may be suffering from terminal Cancer here is an easy site to compare rates and buy life Insurance online, simply click here www.affordablelifeusa.com/instant-life-insurance-quotes/. Help Delaware TSA reach our donation goal by donating here. The state officers along with Concord High School, Caesar Rodney High School, and Mount Pleasant High School have already made plans to attend, and it's not too late for you and your chapter to attend! If you're interested, please see our link above to donate to ACS and contact Jen Marshall for specific information on where to meet up.
Andrew Jackson, a member of Caesar Rodney High School went with the State Officers to Coastal Cleanup in September.
Below is an excerpt of his experience:
It was a great way to have fun doing something with old and new friends while helping out with a great cause. It was just such a great experience and I'd be happy to help again. For some moments I also felt like part of the State Officers! Everyone was nice and I'm happy to have spent a day with them all.
All donations go to the American Cancer Society. We hope to see many of you at the walk!