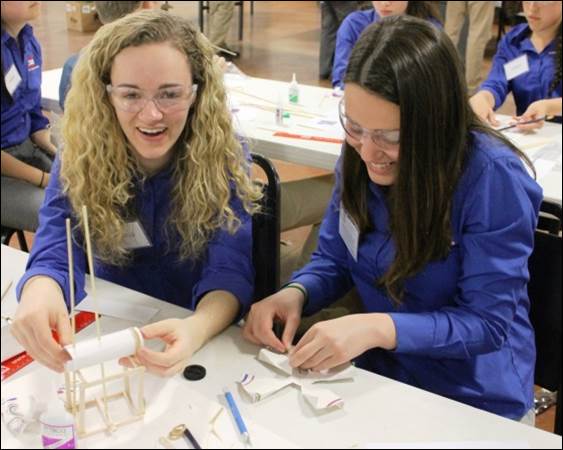 On April 29 and 30, more than 750 students, advisors, and judges from 38 chapters across the State of Delaware attended the 2015 Delaware Technology Student Association (TSA) State Conference. A total of 692 students participated in 61 competitive events with 1587 total contest entries. The top 3 medalists for each contest were recognized for their outstanding achievement.
Students competed in events such as: Architecture, CAD, Digital Video Production, Dragster Design, Engineering Design, Flight, Jr Solar Sprint, Maglev Vehicles, Robotics, Rocketry, Structural Engineering, System Control Technology, Video Game Design, and more. Each TSA competitive event requires students to apply technology, solve technical problems, conduct research, and invent solutions. Additionally, HB DuPont Middle School was recognized for their students' outstanding spirit and was honored with the 2015 Delaware TSA Chapter Spirit Award.
The Technology Student Association (TSA) is a Career and Technical Student Organization (CTSO) dedicated to students interested in the future of invention, innovation, engineering, and technology. Through TSA, members have the opportunity to participate in technology-focused competitive events, take part in community service work, and become leaders for the organization in their school, state, and at the national level. TSA incorporates curricular and co-curricular experiences to emphasize the importance of knowledge, leadership, skill development, and teamwork.
As part of the TSA event, the following student members were elected to serve as State Officers for the 2015 – 2016 school year:
A list of all event finalists can be found here. Additionally, a list of event finalists sorted by school can be found here. Each student finalist that was honored at the State Conference as a top 3 medalist has earned the opportunity to represent Delaware at the 37th Annual National TSA Conference from June 28-July 2 in Dallas, Texas. At the national level, our Delaware representatives will compete against nearly 7,000 other student participants who have qualified from around the world.
To learn more about Delaware TSA, please visit: www.detsa.org or contact Mike Fitzgerald by phone at: 302.735.4015 or by email at: [email protected].
---
Archived Forms