The 2012 Delaware Technology Student Association (TSA) State Conference was held at the State Fairgrounds in Harrington, DE on April 26-27. Over 500 students and advisors from 30 chapters all over Delaware were in attendance this year! The registration for this year's state conference was at an all-time high. With 6 new schools attending, and more than 900 entries in all the competitive events, the 2012 Delaware TSA State Conference was a huge success!
The Technology Student Association is a career and technical student organization (CTSO) dedicated to students interested in the invention and innovation of technology. Through TSA, members have the opportunity to participate in a vast amount of technology-focused competitive events, take part in community service work, and become leaders for the organization in their school, state, and nation. TSA expands on the curriculum of technology education classes and emphasizes the importance of knowledge, leadership, and teamwork.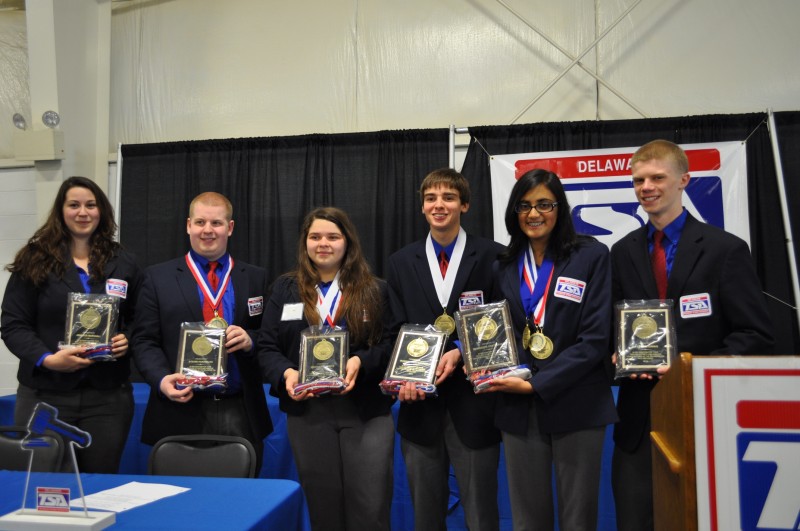 Students from across the state competed with each other in events such as CAD, Digital Video Production, Engineering Design, Flight, Inventions and Innovations, Magnetic Levitation Vehicles, Rocketry, Structural Engineering, System Control Technology, Technological Problem Solving and more. Each TSA competitive event requires students to apply technology, solve technical problems, conduct research, and invent solutions. A list of all event finalists can be found here.
Additionally, Sussex Central High School was recognized for their outstanding spirit and was honored with the 2012 Chapter Spirit Award.
In the midst of the competition, those in attendance also had the chance to meet with others from many different schools, including the eleven candidates that ran for the 2012 – 2013 Delaware TSA State Officer Team. With an increase in the amount of members and candidates, this year's candidates worked especially hard during the campaign and election process. The voting delegates selected the team of officers to serve Delaware TSA for the next year.  The following members were elected to serve as State Officers for 2012-2013:
President – Davey McGinnis, from Mount Pleasant High School
Vice President – Michael Krueger, from Concord High School
Secretary – Emily Wong, from Concord High School
Treasurer – Rebecca Williams, from Mount Pleasant High School
Reporter – Quan Bui, from Concord High School
Sergeant-at-Arms – Jordan Siskin, from Mount Pleasant High School
TSA members also contributed an astounding amount of effort to the American Cancer Society (ACS). A mini Relay for Life was held at the conference, and many students wrote cards for cancer patients. By the end of the conference, we were able to send 130 cards! Prior to the conference, TSA chapters across Delaware also collected contributions for ACS. Concord High School raised the most money, contributing $552, and overall, Delaware TSA raised $1,500!
Members of Delaware TSA are excited for this year's 34th Annual National TSA Conference hosted by Tennessee TSA in Nashville, TN at the Gaylord Opryland Resort! Those attending the National Conference will have the opportunity to compete nationally, meet people from all over the country and even other countries, participate with the American Cancer Society with National TSA, and vote for the next National Officer Team!
Competitive Event Center (Archive)
Conference Registration Downloads (Archive)