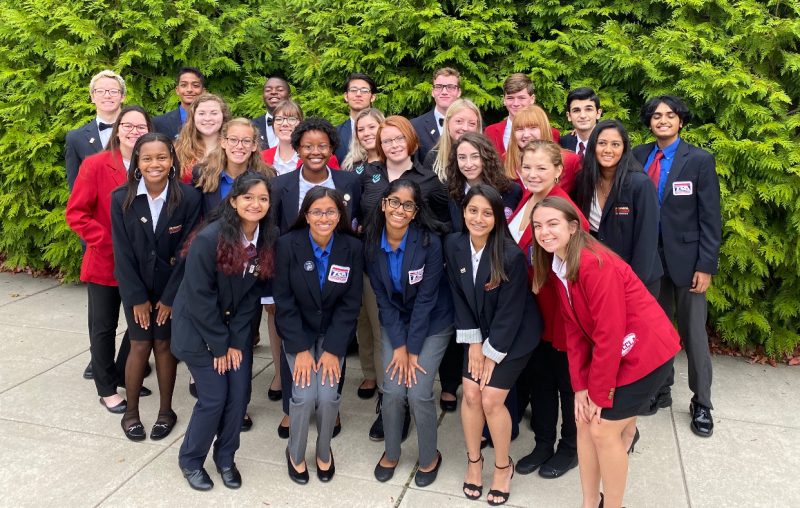 2020 Fall Leadership Conference (FLC)
The Delaware Career and Technical Student Organizations of BPA, DECA, Educators Rising, FCCLA, HOSA, SkillsUSA, and TSA are excited to announce registration for the Fall Leadership Conference (FLC) will open on TBD.  The conference will be held at Del-Once Conference Center at the Delaware Technical Community College (DTCC) Terry Campus on November 4 and November 5 of 2020. Students will gain skills in leadership through a series of exciting and engaging workshops.
Location: TBD
State Officers from each student organization will facilitate a professional development workshop related to their respective organization. Dress should be professional witha collared or button-down shirt, dress pants, and closed-toe shoes.
The annual all CTSO service project is Toys for Tots. Guidance for Delaware toy donations are the following: new un-wrapped toys ($10 or above price range) and/or children's books; Age range 0-12 years old OR donate check made payable to: Marine Toys for Tots Foundation. Toys not accepted for donation include: used toys; toys related to weapons; toys with candy inside; toys with chemicals (i.e., experimental labs, acid, crystal projects, etc.).
Important Planning and Registration Details:
Registration for November 4, 2020; or Registration for November 5, 2020. Please note that State Officer registration is complimentary and is not included with your chapter count.
Draft Program Guide
Comprehensive schools may register up to eight (8) participants per chapter.
Vo-Techs (NCCVT; POLYTECH; Sussex Tech) may register up to two (2) participants per career program. Work with your CTE Activities Advisor to coordinate your student participation.
Lunch will be provided.
Registration is $ per participant. Registration will close on October 9, 2020
Payment by credit card is required. See the Velocity Conference Payment Instructions should you need guidance.
Permission forms required for all attendees –space is limited–
*Note: When registering your chapter use the following naming convention: School Name-CTSO Name. Example: Fifer Middle School-HOSA (School Name-Organization). The naming convention is important for calculating the number of students participating in the individual CTSO workshops.
When registering your school, please use the following naming convention: School Name-Level, CTSO. Be sure to include all pertinent information, including school address and contact number. All payments must be made prior to the deadline to ensure registration. Payments are not refundable. Please complete each item on the payment site prior to submission. Should you have questions or need assistance, please contact Carmen Strollo at Carmen.Strollo@doe.k12.de.us.